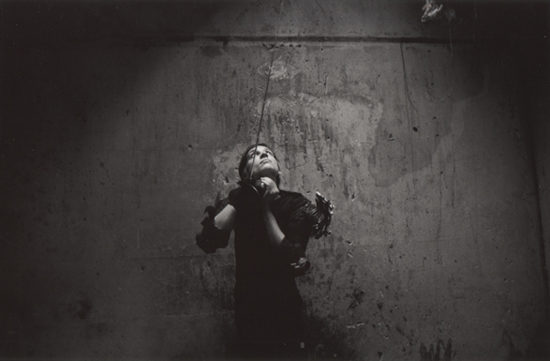 Electronic Primitiv
1996
Machines à écrire désossées, métal, tissus, micros-contact, ampli basse.
Je fabrique une armure sonore à partir de morceaux de métaux, de ventres de machines à écrire, et de micros-contact. Une fois vêtue, l'armure est branchée à un ampli basse. Je me jette contre les murs et les portes du lieu, je griffe le métal et la pierre. L'armure, protection et protèse, permet à un corps projeté de produire un son féroce.
Femme-machine, je deviens une hominidée électronique.
Electronic Primitiv
1996
Typewriters, metal, tissue, micro-contact sensors, bass amp.
I make sound weave from pieces of metal, typewriter bellies, and microswitches. Once dressed, the armor is connected to a bass amp. I throw myself against the walls and doors of the place, I scratch the metal and the stone. The armor, protection and protesis, allows a projected body to produce a fierce sound.
Woman-machine, I become an electronic hominid.